Fruits Day Celebration
FRUITS DAY CELEBRATION was conducted by Pre Primary Montessori section on Thursday 30-6-22. Activities by Children were : Participation in Special assembly, fruit peeling, cutting and serving, colouring of fruit pictures, observing fruit carving. Class wise Fruit-Quiz was conducted.
PRE SCHOOL
The Pre School of MES Centeral School Tirur is based on Montessori system of education.This system recognizes the crucial improtance of a child's first six years of development. It is during this time that a chil'd power of absorption is at the highest and the lifelong attitudes and patterns of learning are firmly formed. Children in this stage are to be respected as different from adults and as individuals who differ from each other. The child in this stage possesses an unusual sensitivity and intellectual ability to absorb and learn from the environment that are unlike those of the adult both in quality and capacity. Our Pre-Primary Montessori is a 2 year course with 50% Junior (31/2-5years) and 50% Senior (5-6 years) students in an environment. All our Directresses are trained at Montessori Teacher Training centre, Tirur, a franchise of Modern Montessori International (MMI) London, the curriculam of which is approved by many universities abroad.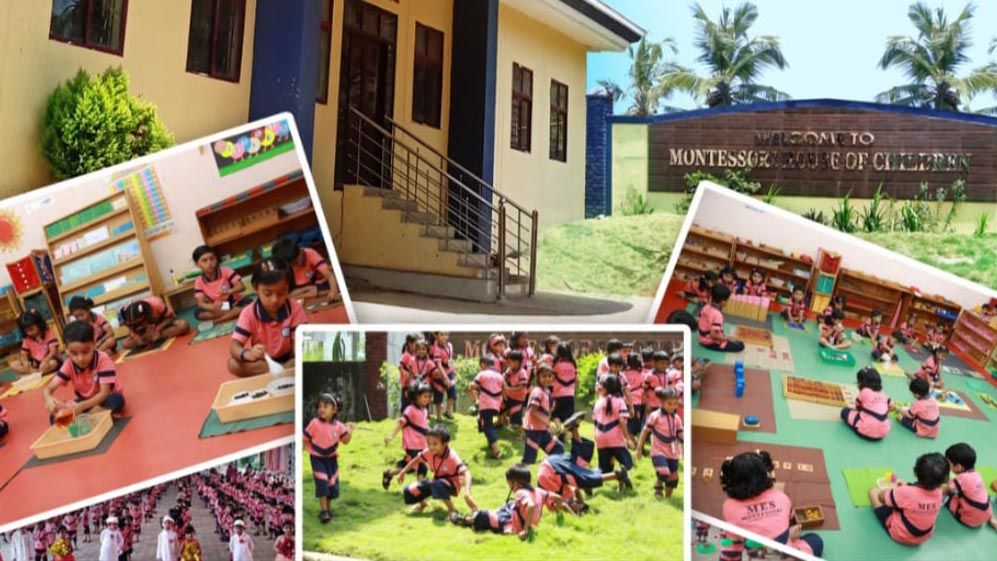 MONTESSORI PRIMARY-GRADE I TO III
It is a three-year programme for students of age 6 to 9 years. Students of Grade I, II and III study in the same environment or class room. The curriculum followed is that of NAMC (North American Montessori Centre), another reputed organisation offering Teachers' Training Courses all over the world. The curriculum includes subjects such as Language, Maths, Botany, Zoology, Geography, History, Physics and Chemistry which are all offered to children with the help of materials that makes them experience and learn the basic concepts thoroughly. MES School Education Board offers one year post diploma part time course to graduates with B.Ed. or graduates with diploma from MMI, to acquire eligibility to handle Primary Montessori.
Ms.Jyoti Gopal
MSc., BEd., HDSM, PDM
HM PRE SCHOOL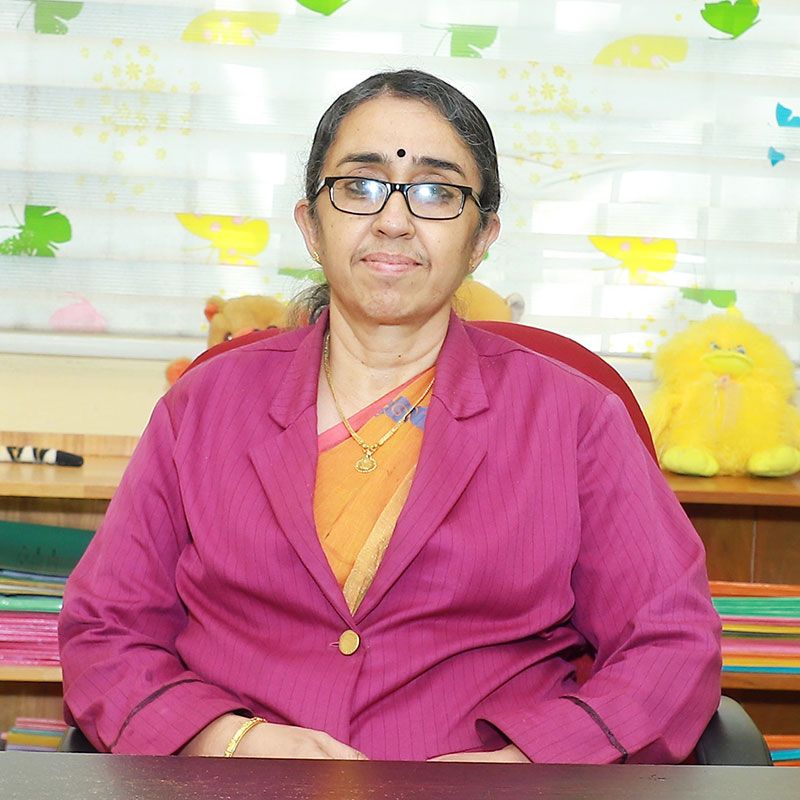 Senior Secondary MES Central School, Tirur epitomizes the new class of professional educational institutions in the state of Kerala. The Co- Educational School, following CBSE curriculum, was established in 1990 under the direct management of MES Tirur Taluk Committee, and quite amazingly, the institution scaled great heights in a short span under the support of eminent educationists. The School has attained international standards providing outstanding faculties in all subjects and offering facilities like Montessori System of learning at pre-primary & primary levels ,experiential learning,Digital smart classes, Modern labs in Physics, Chemistry, Biology, Mathematics and Computer Science, e-learning at senior secondary level, ISO Certified system of administration, etc.Consequently the students develop Higher Order Thinking Skills and secure top performance in Board Examinations and finally contribute to the nation, a new generation of successful global citizens.
Montessori Method is based on self-discipline, self-governance and free movement of children, not confining to the four walls of a classroom. Scientific observation has established that education is not what the teacher gives and carried out by human individual, or is acquired by listening to words but by experience upon the environment, which make him fit to live with values comfortably in a Society.Children are the supreme important asset and most loving wealth of any nation. The pretty and precious childhood, especially the early years are very significant for the development of concept and other perpetual and cognitive skills in children. Developing habits, attitudes and skills of children in their formative years would go a long way in moulding a society rich in human resources.The child is the centre of education and the teacher is a guide and observer in the processes of learning. Environments are created in which the child's personality can be made to bloom and grow to its fullest potential.The Montessori Method of education practiced in our school is perhaps, the most widely accepted system of child education for age groups of 0 to 10 years. This system was introduced by Dr.Maria Montessori of Italy, a well known Child Psychologist and educationalist, after years and years of research According to her, the infancy of mankind, the child, is the connecting link between generations that have gone and that have to come. The Montessori Method is designed so that the impetus of the holistic development of the child comes from the child himself.

Practical Life
The exercises of Practical Life are the foundation of a Montessori environment. It provides an opportunity for purposeful work which allows your child to develop control and co-ordination of movement, awareness of his environment, good work habit, responsibility, concentration, attention, independence, order and positive self image which can be attained by spontaneous and purposeful work. From these exercises the child learns to make intelligent choices, to become physically and then mentally independent and responsible. Child learns to concentrate, to control muscles, to move and act with care, to focus, to analyze logical steps and complete a cycle of activity. This lays the ground work for mental and physical work in all other areas of work, not just in early childhood, but throughout life.
Sensorial
Children learn through their five senses .The primary purpose of sensorial exercise is to further refine his/her sense of touch, taste, smell, sight and hearing. The materials used in the sensorial exercise are quite unlike anything else that the child has ever encountered in the way of play things. The child will be able to perceive size, shape, colour, sound, texture. odours etc.
The sensorial materials lay a solid foundation for Mathematics, Geometry, Geography, Botany, Art and Music.
Language
A multi-sensory approach, that combines phonics, stories and language experiences to bring meaning to the learning of reading and writing. In the system, child does not learn by heart, but utilizes all his sense help him to read and write with proper understanding. Discovering language becomes interesting, fun and creative through activities in pink, blue and green Montessori language series. Grammar will be taught to enhance the child's attention and use of words in everyday speaking. Language permits the child to satisfy his need by expressing his wishes. It is an instrument of collective thoughts.
Mathematics
An activity based programme that allows child to have hands on experience in learning mathematical concepts. Montessori arithmetic is taught through the manipulation of concrete objects and mathematic materials facilitate children learn by making mathematical concepts simple and logical. The children work with beads and objects which enable them to understand the decimal system, fractions, multiplication, and division easily.
Cultural
The Montessori cultural subjects cover Nature study, Botany, Zoology, Geography, and History. Creative art, interesting fun activities such as drawing, collage work and handicraft works are planned for them to express themselves and it boosts the child's self-esteem.
Reading Corner
A reading corner is set up in the class with different books, based on phonetics, stories, rhymes, puzzles etc which helps the child in improving reading habits. The child can acquire many interesting fact of his own environment, as well as the building up of his vocabulary, categorizing the facts in a clear cut way.
Study Tour
Study Tour is conducted for the children every month. It gives pleasure to the children. It increases vocabulary; the child gets the awareness of various things in and around his world and gradually builds up knowledge.
Extra Curricular Activities
Onam celebration, children's day, kiddies show, kiddies picnic are conducted at school level. Children are given chance to bring out their talents by taking part in many activities. Moral values like Communal Harmony, National integration, patriotism etc. are also induced into Children's Creative Art, Music and rhythm. Physical Programme and Outdoor play activities are also part of the curriculum. Sports, Games and Recreation facilities provided are plenty. Special coaching is imparted in Islamic Studies to Muslim students and value education to other students.
Directress and Nannies
Well experienced and professionally trained Montessori Directresses train the children and trained caregivers look after them.
School Uniform-Boys& Girls
Double colored T-shirt and Bermudas in MES purple with MES School. Monogram prescribed by MES School Education Board, a comfortable footwear and MES School Bag.
Montessori Environment
Children are to be respected as different from adults and as individuals who differ from each other.
The child possesses an unusual sensitivity and intellectual ability to absorb and learn from his environment that are, unlike those of the adult, both in quality and capacity.
The most important year of a child's growth are the first six years when unconscious learning is gradually brought to the conscious level.
Vertical grouping is characteristic of the Montessori approach in recognition of the fact that children have different rates in physical, emotional, social and cognitive development and thus are more sensibly treated as individuals rather than lumped as a chronological age group.
Kids Computer Lab
A well equipped lab with network systems, loaded with activity oriented software functions for the exclusive use of kids.

Inclusive Education
It is a concept introduced by central government whereby students with disabilities study together with students without disabilities where speech therapy counselling and structured training to read and write are provided by special educators trained for the purpose, under the guidance and support of the department of counselling. It also helps to respect each others who have impairment or not. It offers partnership with parent, teachers and school community and further provides self confidence to these differently abled children.
Health Care Center
There is a well equipped clinic, functioning in the campus with well qualified Health Assistant, to extend First Aid Service to our staff and students. The service of our School Doctors is also made available when ever required .Medical checkup will be conducted once in a year by well qualified medical officers under the auspices of Health Care Center. The general campus cleanliness is taken care of by the Health Care Center.
Departmental Store
The books, uniform, stationery, and other materials required for the students can be had from the M.E.S Departmental Store, functioning in the campus. All students should purchase text books, note books and uniform materials only from the Store.
Security
Arrangements are made to ensure security of children and staff, building and materials. Nobody can enter the campus without proper permission.
Visitors
Parents /guardians may visit the institution preferably after 3 pm with permission. Wards/Teachers shall not be contacted directly .HM may be contacted in case of necessity.
Free Education
A few seats are reserved for the free education of deserving candidates. Candidates seeking admission under this scheme should submit application in the prescribed form, along with a covering letter to the Chairman of the School governing Body
General Information
Montessori Method will prepare your child for Primary School.All areas of education are taught in a concrete and fun way. Your child will be given the freedom to construct himself. You are fully aware of your child's progress. By building your child's self esteem, feeling of self-worth and confidence is inculcated.
Admission
Admission is open to all, irrespective of caste, creed, sex and religion. Registration of seat to Montessori-Junior commences from the middle of November and admission in the first week of May every year.Children within the age limit of 4 to 5 years as on 1stJune are eligible for admission. All the students successfully coming out of MES Montessori Pre-School, Tirur, are given admission to the first year of the primary section of Montessori House of Children of MES Central School, Tirur. The right of admission to all classes is reserved by the management.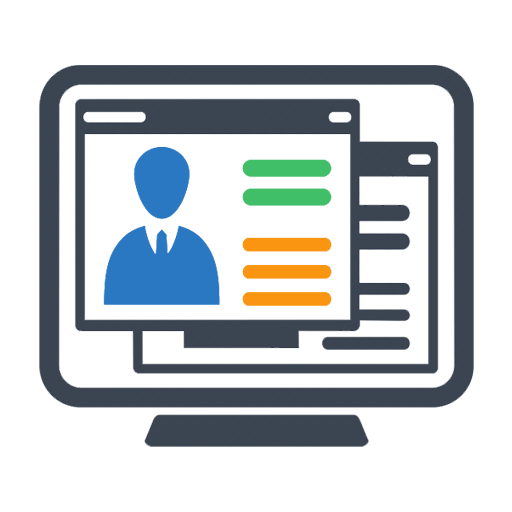 Application form & Prospectus
Application form & Prospectus for admission to Montessori can be obtained from the office of MES Central School, Tirur. Application in the prescribed form along with the Birth Certificate should be submitted to the HM, MES Pre-School, Tirur
Fees
The fees payable per year will be fixed by the management from time to time,which may be paid in 4 installments. The first term fees is payable at the time of admission and 2nd,3rd & 4th term fees are payable in month of September, December and March respectively .The details of fees structure and terms of payment are given in the School Diary.
Working days & hours
The Montessori classes will work 190 days a year. The working hours of the classes will be from 10.00 am to 3.00 pm with an interval of 50 minutes at noon for lunch. All Sundays and Saturdays are holidays.
Montessori Curriculum
Montessori System of learning does not prescribe a curriculum as such, as the children are free to explore to any extent. But we ensure a minimum level in the following areas when they come out from the Pre School.
News update
Latest News & Events
View All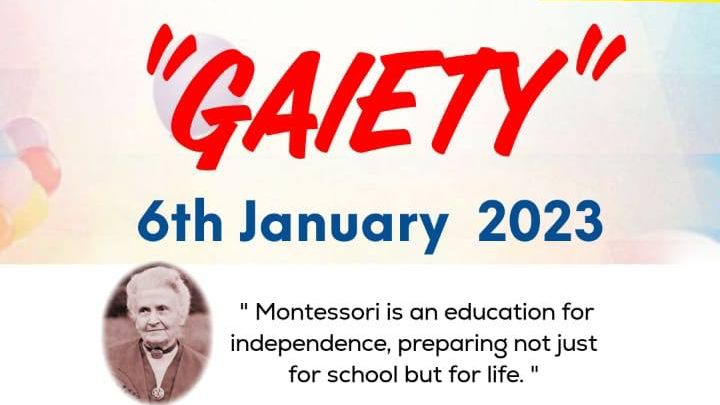 MOntessori Day Celebration held at MES Tirur.
Admin · 07-01-2023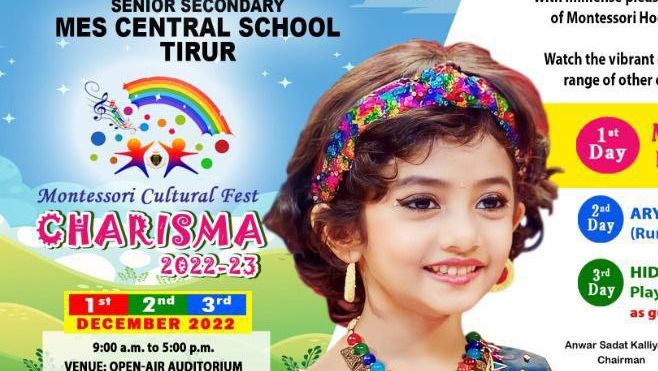 Montessori Cultural Fest "Charisma 22-23" held @ Tirur on dec 1st, 2nd & 3rd..
Admin · 07-12-2022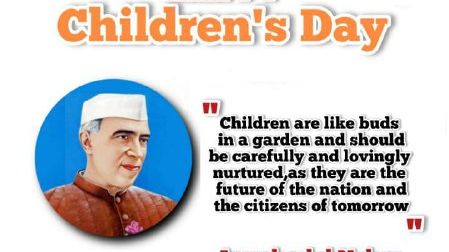 The Montessori section's Children's Day Celebration started off with a series of colourful programmes organised in the morning assembly in connection with the 133rd birth anniversary of Pt. Jawaharlal Nehru..
Admin · 16-11-2022